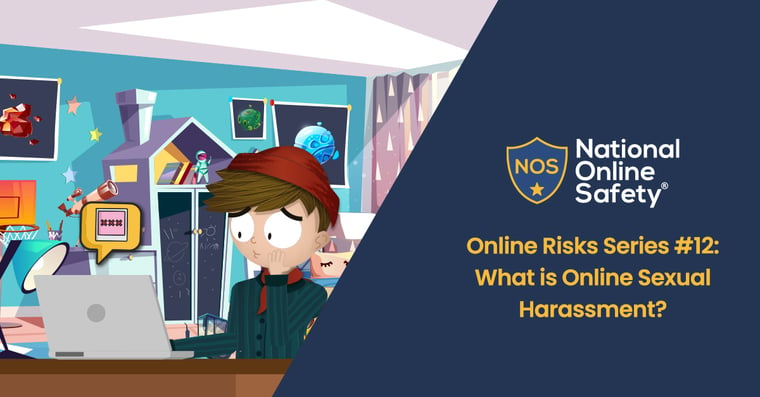 This article about online sexual harassment describes what it is, explains its different forms, and how to mitigate it in your school.
It was written by safeguarding expert, Lorna Ponambalum and encapsulates what school leaders and teachers need to know to effectively teach about online safety, understand the effects of online sexual harassment, and prevent it from occurring in their schools.
What is online sexual harassment?


A person can feel threatened, exploited, coerced, humiliated, upset, sexualised, or discriminated against.
Although both boys and girls are targeted by online sexual harassment from their peers, girls are more likely to be affected often resulting in more negative outcomes.
As well as girls, evidence shows that children with SEND and LGBT children are at greater risk.
The five categories of online sexual harassment


Online sexual harassment can be categorised as follows:
Non-consensual sharing of sexual images and videos: Sexual images and videos of a person which are shared or taken without their consent. It can also be non-consensual sexual acts (e.g. rape) which are digitally recorded and potentially shared.
Sexualised online bullying: When a person is targeted by an individual or group using sexual content that humiliates, distresses or discriminates against them.
Unwanted sexual comments and messages: A person receiving unsolicited sexual requests, comments and content. This could include:


Making sexualised comments about photos.
Distributing sexualised viral campaigns that coerce people to participate.
Sending someone sexual content such as images, emojis, and messages without their consent.
Rating peers on attractiveness/sexual activity.
Adjusting images of a person to make them sexual.

Sexual exploitation, coercion and threats: When a person receives sexual threats, is coerced into participating in sexual behaviour online, or is blackmailed with sexual content. They could also be harassed or pressured into sharing sexual images of themselves online or even threatened with the publishing of sexual content which is known as sextortion.
Upskirting:

This is where someone takes a picture under a person's clothing without their consent or knowledge with the intention of viewing their genitals or buttocks (with or without underwear) for sexual gratification, or to cause the victim humiliation, distress or fear.

Since 2019, it is now a criminal offence. It is not gender-specific and, therefore, anyone can be a victim
Online sexual harassment and legislation





On some occasions, online sexual harassment may break the law. Cases should be dealt with on an individual basis if the police are involved and it is important not to criminalise young people unless it is absolutely necessary.
It is important to note the Crown Prosecution Service (CPS) Guidelines on prosecuting cases involving communications sent via social media:
"The age and maturity of suspects should be given significant weight, particularly if they are under the age of 18. Children may not appreciate the potential harm and seriousness of their communications and a prosecution is rarely likely to be in the public interest".
There are however a number of laws in the UK pertinent to online sexual harassment such as


What the government has done to address online sexual harassment of children and young people:
In 2018, the Department for Education (DfE) issued guidance on tackling sexual violence and harassment in schools and colleges following research conducted by the National Education Union, and campaign group UK Feminista.
The research highlighted that sexual harassment in schools was largely unreported and unaddressed, with many teachers ill-equipped to tackle the issue. The guidance states: "Schools and colleges have a statutory duty to safeguard and promote the welfare of the children at their school/college."
The non-statutory guidance Teaching Online Safety in Schools, which was also published by the DfE in 2019, outlines what schools should be teaching young people around the emerging issue of online sexual harassment.
The teaching of online sexual harassment is also part of the new Relationships and Sex Education (RSE) and Health Education curriculum, which is mandatory in all primary schools and secondary schools from September 2020. However, schools can delay teaching until the start of the summer term 2021 if they are not ready, or are unable to meet the requirements.
Why do young people sexually harass other young people online?
For many young people, online sexual harassment is part of their daily digital lives and, therefore, it is somewhat normalised. It forms part of a wider exploration of their peer group and intimate relationships. There are undoubtedly still sections of society where sexualisation, misogyny, and homophobia are not addressed and remains unchallenged.
Behaviour that might be viewed as a normal expression of sexuality can be used against girls in a way that is different for boys. Behaviour that is judged as promiscuous is often applauded in the case of boys but condemned if you are a girl. What is thought of as 'sexually inappropriate' conduct for girls can be legitimately used online to publicly humiliate them.
Young people are more likely to experience online sexual harassment and discrimination due to their sexual or gender identity, resulting in a more negative impact in both the short and long term.
The impact of online sexual harassment on children and young people
Young people who become victims of online sexual harassment can feel any of the following:
Threatened or scared
Exploited
Coerced
A violation of dignity
Humiliated or degraded
Shamed or judged
Upset
Sexualised
Discriminated against because of their gender or sexual orientation
Feelings of guilt or self-blame
There is no single way that a young person may experience online sexual harassment and the impact is unique to the individual. However, it will result in both short- and long-term impacts on their mental health and wellbeing. Long-term impacts can be intensified due to re-victimisation as content can be continually re-shared or because the initial trauma reoccurs at a later stage. The effects of online sexual harassment can also be felt by those who witness it or support the victim who has experienced it.
What should schools be doing to address online sexual harassment?
In the Keeping Children Safe in Education statutory guidance (2020), it is stated that: "All staff should know what to do if a child is being abused or neglected." Later in the guidance, it states:
"An effective approach to online safety empowers a school or college to protect and educate the whole school or college community in their use of technology and establishes mechanisms to identify, intervene in, and escalate any incident where appropriate."
Schools are expected to help pupils deal with "unwanted conduct of a sexual nature", which can occur online or offline. They must also understand that pupils can be perpetrators as well as victims of sexual harassment and sexual violence.
Schools must have an effective safeguarding and child protection policy that addresses a range of issues including online sexual harassment and sexual violence. This should also be referenced in the school's behaviour policy and anti-bullying policy.
National Online Safety


To support you and your staff with a range of online safety issues, including sexting, online bullying and online grooming, National Online Safety has built a suite of webinars, courses, explainer videos, and guides brimming with expert knowledge.
Our members receive instant access to all our past and future content which can be instantly accessed anywhere, anytime through our brand-new mobile app – the most comprehensive online safety app in the world.


---
Sign up today and help keep your children safe online through education, training and updates which empower the whole school community.

Posted by Lorna Ponambalum