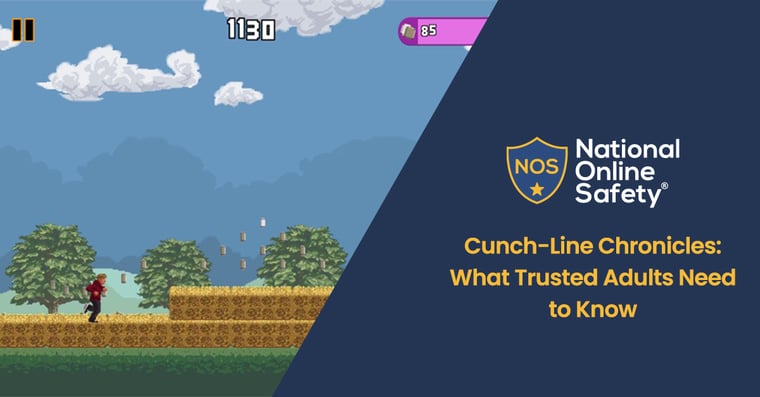 There are already a plethora of best-selling video games which cast the player in the role of a criminal operative – an assassin, a Mafia foot soldier, an armed bank robber, a LA gang member or even a Wild West outlaw. So it should hardly come as a surprise that another games developer has ventured into the underworld of illegality.
What is unexpected, however, is that Cunch-Line Chronicles (a debut offering from Southside Studios, available on the App Store and Google Play) doesn't deal with the glamorous, high-end crime usually depicted in games and movies.
Instead, it replicates the more squalid practice of 'county lines' – where gangs from Britain's inner cities send younger members to more remote areas. There, coordinating via burner phones (the telephone network being the "line" of 'county lines'), they sell drugs to users whose geographical location usually presents a barrier to substance availability.
What is Cunch-Line Chronicles about?


"Cunch" is slang for "country" (as in "countryside") but can refer to any distant – often rural – area where dealers dispatch their teenage subordinates to peddle drugs, out of sight of the city police and the general public. These trips are known as "going cunch". A city dealer can therefore extend their supply line into softer provincial markets – also tapping into an affluent middle-class customer base while only needing to contend with less well-prepared local law enforcement.



The game's own promotional blurb states that it "moves away from the common fantasised, softcore concept and leans more towards the gritty reality of life". So perhaps its relative mundanity is the source of its appeal.
Not that Cunch-Line Chronicles' gameplay is especially immersive. It's a very basic two-dimensional scrolling Super Mario-style affair, where the player jumps over obstacles while being pursued by the local constabulary. They collect and deliver drugs, visit trap houses (drug dens), occasionally unlock a new character … and that's essentially all.
Cunch-Line Chronicles is compatible with smartphones and tablets. It features in-app purchases (extra playable characters, for example) ranging from 99 pence to £20.99.
Who's playing it?


Not surprisingly, Cunch-Line Chronicles' content of drug dealing and child exploitation has garnered a PEGI 18 'mature' rating. But games – like movies – are frequently consumed by people well below the prescribed age certification. Although it's free to download, the game hasn't yet taken off in significant numbers and isn't currently troubling the top 200 games charts. But with ratings of 4.4 stars (on the App Store) and 4.3 (Google Play) out of 5, it does appear to be popular with its small audience.



The reviews suggest that many players have (or at least claim to have) at a passing knowledge of what "going cunch" entails. "Really makes you feel like a trap star" (defined on urbandictionary.com, incidentally, as "a successful drug dealer") … "Made me feel like I was really in the bando getting chased by the pigs" (bando: an abandoned house, used as a base for manufacturing and distributing drugs) … "Game bangs styl (sic), gotta give it to the makers" and so on. There's no way to verify, of course, if these reviews are from genuine players or have been strategically placed for marketing purposes.
Why the controversy?


In comparison with the extreme violence and criminal themes of, say, the Grand Theft Auto franchise or the Mafia trilogy, Cunch-Line Chronicles seems fairly inconsequential. But perhaps this relatability is precisely the problem: it's far more plausible that an impressionable young person in the UK would fall into cross-county drugs trafficking than enter an organised crime empire. This is a portrayal of grass-roots, accessible crime – not the specialised and highly skilled world of elite hitmen, for example.
The primary reason for the controversy is therefore an ideological one. Cunch-Line Chronicles presents county lines as a light-hearted, lucrative adventure and the authorities as 'bad guys' to be evaded. The makers do include a disclaimer ("This game is completely satirical and the actions depicted should not be replicated in real life"), but as always it's disputable how much notice young people will take of this. What is undeniable is that the game perpetuates harmful stereotypes of gang culture, particularly in terms of racial profiling: the player selects their character from no fewer than five BAME avatars or two white ones. The pursuing policeman is white.



How can National Online Safety help support you?

National Online Safety is dedicated to keeping children safe online through education, training and updates which empower the whole school community. Our parent courses, explainer videos, webinars and online safety guides are developed by nationally recognised experts to provide you with support, advice and guidance.
In view of the story covered in this blog, you may find it useful to access some of our online safety guides on related subjects:
What Parents Need to Know about Online Content
12 Smartphone Online Safety Tips
You can get free access to our award-winning resources through your smartphone by downloading the National Online Safely app. It's available now from the App Store or Google Play.
---
To stay up-to-date on the latest games, join National Online Safety today.

Posted by Jim Oldfield