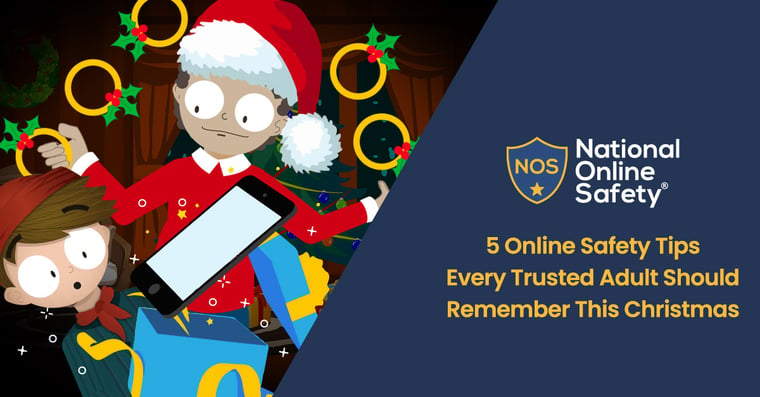 In a little under a week, some very lucky children will be jumping for joy as they open their brand-new console, smartphone, or tablet. For younger children, it will be the first time they have owned a portal into the online world. For older children and young people, it may offer them new inroads into a digital environment they have yet to fully explore.
As exciting as these gifts will be, access to the internet inevitably brings with it an inherent level of risk.

So, rather than spending your Christmas Day frantically googling what safety measures to implement, we've put together our five top tips to help you and your children stay safe on their devices this holiday season.
Top tip #1 - Always set a password


Encourage your child to set a password on their new device. This will help keep their private information safe from prying eyes. Ensure this password isn't too obvious but ensure it is memorable to your child.
Top tip #2 - Set up parental controls


Parental controls are great for monitoring, reviewing and screening the content your child views. This will offer you some peace of mind that your child isn't being exposed to inappropriate videos, games, books, music, etc. Xbox and Playstation have released new consoles recently – we've got the lowdown on how to set them up safely in time for the big day.
Top tip #3 - Only pair with known Bluetooth devices


Bluetooth connects devices wirelessly, allowing them to share content or stream audio. This is great for friends to share photos or listen to each other's music. However, if your child pairs with an unknown device, they may be risking the security of their personal information.

Top tip #4 - Explain secure WiFi networks


Your home WiFi is password protected whereas public networks are not. This makes public hotspots more welcoming to hackers who can use these networks to attempt to access someone's personal information without that person even knowing. Make sure you explain the difference in security between private and public networks to your child.
Top tip #5 - Turn location settings off
Ensure your child isn't inadvertently broadcasting their location to other people by turning off their location services (these can be found in the settings menu of most devices). This not only keeps your child from being trackable, but it also significantly extends battery life.
More information and top tips for keeping your children safe online can be found on our latest #WakeUpWednesday guide: 12 Online Safety Tips for Children with New Devices.
Have you considered joining us?
Sign up with us today and get instant access to our hundreds of FREE online safety guides on the latest apps, games, devices and online risks.
If you're a school, joining our certified membership will give you unlimited access to our comprehensive range of webinars, courses, and explainer videos, all of which are designed by leading authorities in the education sector.
You can also download our brand-new app which provides you will access to our award-winning online safety resources anytime, anywhere – right at your fingertips.
---
Become a member today and empower your whole-school community with the latest online safety education, training and updates to help keep children safe online.
Posted by Molly Hookings